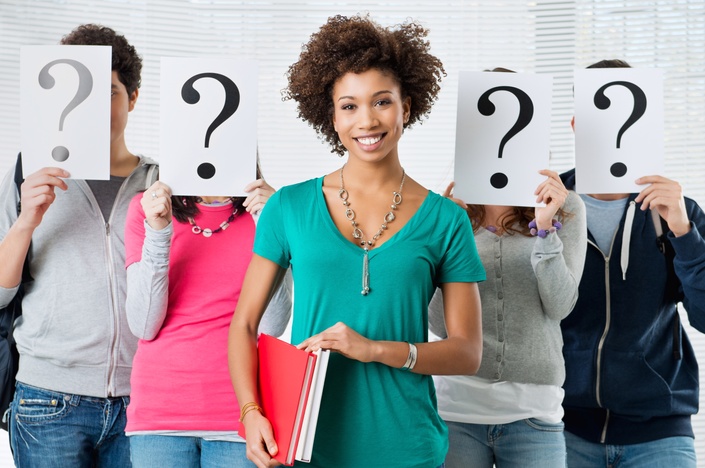 Creativity Coach Certification Course
Help others Free their Minds from their Minds
Enroll in Course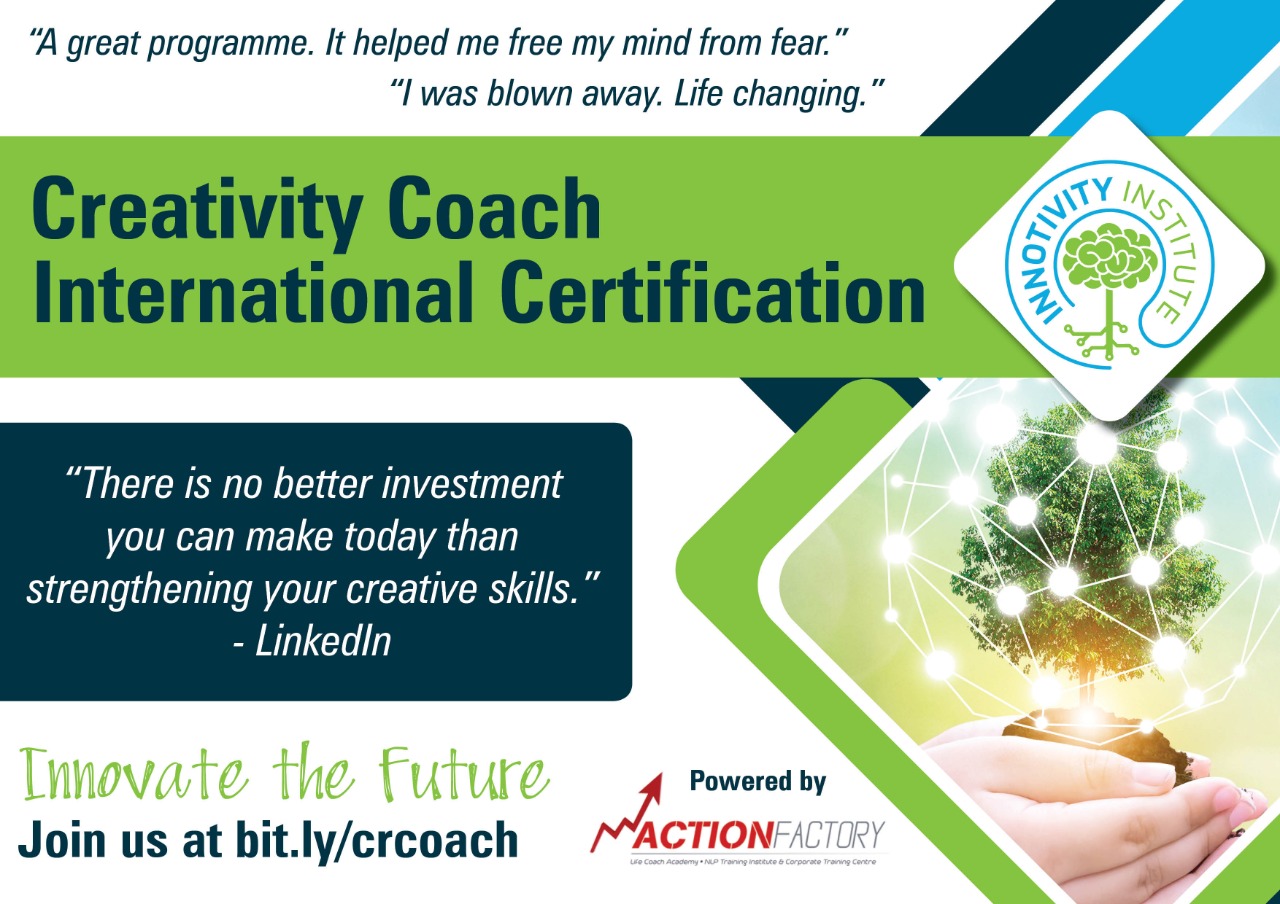 "CREATIVITY IS THE SKILL OF THE FUTURE" - Forbes

Not any more it isn't.

It's the skill of TODAY.
Unfortunately, 98% of adults have lost our creative genius.
Regain yours and help others get theirs back too.
"One of the most amazing personal journeys I have been on. A great trip." - Patric
"What a great programme, it helped me free my mind from fear." - Lara
"I was blown away. Life-changing." - Wendy
"A great opportunity to integrate current coaching practices with creativity. I have learned that all coaching is in fact helping clients to create and/or recreate themselves. Exactly what I was looking for." - Kobus
Here's your Future Story:
The COVID crisis continues far beyond expectations, and one of your clients, a middle-sized robotics company, continues to be unable to move forward with several of their contracts for producing robots due to client factory closures and business failures in their network. Luckily, you have been trained in creative and innovation thinking techniques, and we have certified you to take them into action. In a series of short online workshops you train the company's executive staff to stop clinging to old ways of thinking and be able to generate their own new ideas even without you - and you train the L and D staff to teach this technique to the rest of the company. You use the Innovation Explosion system to do it, and make half the profits there of selling the product to 1000 employees (more than US $100,000) on top of your substantial consulting fees. And everyone is happy.

This is one of the futures available to you only three months from today if you take action now to become an internationally certified Creativity Coach via the Innotivity Institute, powered by Action Factory.
At the time of our launching of this course we are the only Creativity Coach certification process we are aware of other than the one for the Creativity Coaching Assocation in the USA, which takes more than a year and costs more than four thousand dollars. Our process is more aligned with typical quality coaching certifications that exist across many disciplines that take a few weeks to complete. We are not as scholarly or erudite as the CCA's certification process. We do not feel we need to be. We believe that an experienced and qualified coach can learn Innotivity (creativity and innovation) techniques in the same style as they have learned other coaching styles and techniques. And thus POW you have added another arrow to your quiver, another velvet hammer to your toolkit.
Creativity Coaching is not about helping "Creatives".
It's about helping EVERYONE.
Creativity Coaches can serve:
C-Suites
Company teams
HR Departments
Entrepreneurs
Innovation Departments
Teachers
Students
Artists
Creative Industries Practitioners
Anyone!
As a certified Creativity Coach, you will know how to help your existing clients – and new clients – FREE THEIR MINDS FROM THEMSELVES.
"THERE IS NO BETTER INVESTMENT YOU CAN MAKE THAN STRENGTHENING YOUR CREATIVE SKILLS." - LinkedIn
There are two main reasons that people register into this workshop, and that is to gain:
The skills of Creativity coaching; and/or
International Certification as a Creativity Coach
The types of people who tend to take this workshop are:
Established Life Coaches, Business Coaches, Executive Coaches, or other types of Coaches, who see the value and importance of Creativity in business and life today and want to build their Creative Coaching skills;
Established Creativity Coaches who want to get certified
People who are keen on working with Creativity with their clients, but who are not yet certified or practicing as coaches...yet see Creativity as a critical key to powerful results.
REGISTER TODAY AND BEGIN TODAY>> THE PROCESS IS MOSTLY SELF-MANAGED (see below):
Registration for the Coach Certification Course includes:
8 week Innovation Explosion online creativity training
8 weeks of Coaching content (mainly external references to readings, audios and videos)
1 monthly Q and A webinar you can attend as many as you want during the whole process
1 group training weekend completion webinar
membership to a FB group where you can meet and discuss with other students and former students
The Certification process itself
The process can be done in about fifty hours over eight weeks (or more, depending on you).
You can have a closer look at the Innovation Explosion training at: https://actionfactory.teachable.com/p/innovation-explosion-intro/
HOW CERTIFICATION WORKS
Our Certification is provided by Action Factory according to the International Coaching Register (ICR) requirements and is permanent.
To get your Certification you will need to:
Complete the Innovation Explosion Foundation Workshop online (included with this package) and take a simple test here that will automatically provide a pass-fail result.
Complete all entries in this online Coaching course (mostly external readings, audios and videos) and write a short essay outlining what you have learned.
Coach at least two clients through a creative breakthrough at no charge to them.

You can use the Innovation Explosion technique. If they purchase the videos you will get affiliate commission
You can teach them the Innovation Explosion technique without them purchasing the videos.
You can extrapolate from the learnings and use your own methods aligned with creative coaching
You can do this in 8 sessions as per the Innovation Explosion model, or less sessions if you are able to help them resolve their thinking problem in that period

Write and submit a short summary of the processes in #3 (examples are included in this training)
Attend one weekend live online creativity coach certification workshop, offered once monthly, included in this training (two half days)
Take the Coach completion survey
Have your 2 clients take the Client completion survey
You are encouraged to join our once-monthly creativity coach Q and A sessions of two hours during your process. This is not required but highly recommended.
You have to already be a Certified coach, complete an NLP Life Coaching Certification after the Creativity Coaching Certification course, or have a substantial track record as a practicing but non-certified coach, trainer, mediator, psychologist, etc. If you do not, then you must do the following:
**If you are not yet a certified coach nor have a history of coaching that can satisfy RPL requirements: You must complete an NLP Life Coaching Certification - Action Factory's is available to you at a huge discount if you follow the instructions inside the Creativity Coaching Course after your purchase.
The coaching process itself outlined in #3 is a bit more complex. The idea is that you can successfully execute your job as a Creativity Coach with two different people. You will not charge them for this until you are certified. There are several ways to do this.
Have one or both purchase the Innovation Explosion video course (use your affiliate link to get 30% commission) and guide them through the process.
Train one of both using your learning from the Innovation Explosion video course without using the videos.
Coach them without using the Innovation Explosion video course at all, and use the video course structure only for yourself to learn the tips and techniques that can support you in creativity coaching.
We have found that it is useful to have one client pursue the video course and the other not, to give you the opportunity to try two different ways of coaching. Whether they do the video course or you teach them the content without the videos, if you use the Innovation Explosion structure, you will need to stay at least one week ahead of them. Mostly, our coaches in training have preferred to be at least three to four weeks ahead, which adds another month to the process but provides a feeling of security especially for less experienced coaches.
The writeup in #4 need not be long, in fact we far prefer it be short and sweet. This should list the challenge each client faced, one or two sentences outlining each session you had with them, the main technique or input you provided, and the breakthrough they achieved in their project.
The writeup should be emailed to [email protected] and cc'd to [email protected] with the subject line
"Creativity Coaching Certification Report"
The surveys assist us in monitoring the process as well as providing us with confirmation from your clients of your writeup from the previous steps.
We recommend that you attend the full-day coaching workshop only after you have completed everything else in your process but before doing the final survey. Your clients may do their survey any time after you have completed your sessions with them. To find out the schedule of these workshops, write to [email protected]
We highly recommend you join our monthly creativity coaching webinars to to allow you to connect to the community of creativity coaches and get any questions or challenges you are facing answered and supported/resolved.
The requirement that you be a certified coach in another discipline or have a track record that allows us to offer RPL (recognition of prior learning) via your experience is due to the fact that we will not be teaching you "how to coach" in this training, but merely how to coach the skill and faculty of CREATIVITY.
Please note further that after you have completed your Certification, you will need to pay a small monthly fee ($25) to the Innotivity Institute if you wish to continue using the Innovation Explosion process explicitly and be able to advertise yourself as an Innotivity Institute-licensed coach. There are numerous other benefits to paying this license fee, and you can see more about it at www.createyourcreativity.tv/coaching. You can also become a member of the Creativity Coach Mastermind as well as other opportunities.
Finally please note we offer an ELITE Coaching program at a far higher price and higher levels of personal interaction. Contact us at [email protected] for further information.
Your Instructor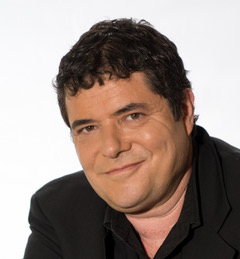 Michael is author of the upcoming book The Innovation Explosion. He is a internationally Certified Creativity Coach, NLP Coach and Executive Coach, as well as a trainer, writer, filmmaker, public speaker, and educator.
He has taught at WITS, AFDA, and NEMISA, and co-founded and designed the programme and curriculum for Johannesburg's Academy of Television (ATV), where he was the first Academic Head. He has decades of experience in the TV and film industry in Africa, Europe and the US and is currently producing screen adaptations of the South African novels Indaba My Children and The Seed Thief.
Course Curriculum
Week 0
Available in days
days after you enroll
Week 7
Available in days
days after you enroll
Frequently Asked Questions
When does the course start and finish?
The course starts whenever you want! It is a completely self-paced online course - you can finish in 8 weeks... or more. As you see fit. And you can go back and revisit any part of this you wish, at any time.
How long do I have access to the course?
How does lifetime access sound? After enrolling, you have unlimited access to this course for as long as you like - across any and all devices you own.
What if I am unhappy with the course?
We would never want you to be unhappy! If you are unsatisfied with your purchase, contact us in the first 30 days and we will give you a full refund.